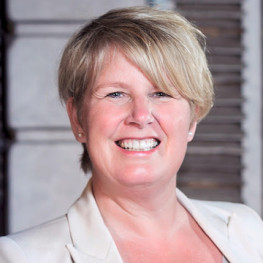 Corine Jansen
DIRECTOR (Health Care),
GLOBAL LISTENING BOARD.
Corine Jansen is a living Legend . Her contribution in the field of healthcare & education is immense.
She has to her credit some very innovative projects in the field of communication in regard to healthcare which are to be considered first of its kind in the world. Corine is a respected figure in The Netherlands.
Corine has over 20 years' experience in managing of Communication departments at several organizations. In September 2009 she started working as CLO at Radboud REshape Center for Innovation of the Radboud University Nijmegen Medical Centre. Since August 2012 she has her own business: JoConnect. She is also partner of Cvision.  She is conducting workshops, and presenting to a wide variety of organizations; corporate clients, healthcare organizations and educational institutions. 
Corine is an active member of The International Listening Association (ILA) and was a member of the International Listening Certified Professional Program. Corine graduated early 2014 on the topic: "Listening to narratives of people who live with medical illness. The ILA reached her the Special Recognition Award 2015 for her activities to bring Listening to the attention of a large audience.
With pleasure, she is  co-founder and member of the jury of the Golden Ear Award for Care. Golden Ear Award for Care is a price for effectively listen to people who use care. Who needs care, not only wants to 'help', but are mainly heard. It is precisely in the care sector is to listen is of great importance. Organizations that listen carefully to their clients the best, safest and most effective care .
In her spare time she is a member of the Advisory Board of the Foundation Ikone.