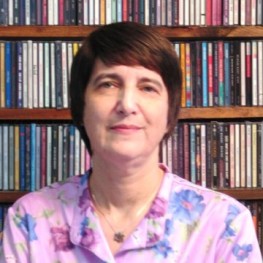 Donna L Halper
, Ph.D.
Hon'ble Director (Media Ecology), Global Listening Centre.
Assoc. Prof. : Lesley University, Cambridge MA.
GLOBAL LISTENING BOARD
Donna L Halper Ph.D. is an educator of international repute presently working as an Associate Professor (Communication and Media Studies) at Lesley University, Cambridge MA.
DR Donna is
*More than thirty-eight years as an educator.
*Extensive research background in media history, social history, black history, women's history.
*Expertise in media analysis of stereotypic representations of "the other," especially women and minorities.
*Experienced fact-checker, researcher, and reviewer for numerous publications.
*Author of six books and many articles (both scholarly and mass-appeal).
*Frequently quoted on radio and in print about trends in broadcasting and popular culture.
*Developed and taught new courses at Emerson College, University of Mass/Amherst and Lesley University.
*Experienced radio consultant who advised both college and professional stations for 28 years.
Experience as an Educator:
Fall 2008- Present: Associate Professor of Communication, Lesley University, Cambridge MA.
I was hired to expand the communication major, and to develop and teach new courses in communication and media-related subjects. To that end, I have created and implemented a number of courses (including Introduction to Communication, Media Analysis, Introduction to Journalism, Communication Ethics, Global Communication, Political Communication, and Public Speaking). I have also designed and supervised several independent studies for adult learners. As a member of the Humanities division, I currently teach a writing course, in addition to communication and media courses. In 2012, I was promoted from Assistant to Associate Professor.
I revived student journalism at Lesley, including founding and serving as the advisor for our award-winning online student newspaper, the Lesley Public Post. As advisor since its inception in 2010, I have recruited student journalists and supervised their work, and trained student editors. I also advised the newly created Radio Club during 2013-2014.
I have also given presentations for Faculty Development Day, including one about fact-checking and detecting "spin" in the news; another about recognizing and challenging media stereotypes about "the other"; and another about the changing perceptions of the First Lady.
Fall 2003 to Spring 2007: University of Massachusetts/ Amherst MA.
As part of my work towards the PhD in Communication at the University of Massachusetts, I taught a number of courses. These included Media Ethics, a course which I designed for my department; Writing as Communication, a junior level course that combined critical thinking with expository writing; and Cultural Codes in Communication a course about western and non-western cultures and attitudes towards "the other." I was nominated for a Distinguished Teaching Award in the Fall of 2003, and nominated again in the Fall of 2005. (I was a finalist in 2005.)
I helped several faculty members with their research, and engaged in my own on-going research in media stereotypes and representations. I was a guest speaker in the classes of several of my colleagues, giving presentations about how radio impacted public perception, how radio news was done in the pre-internet/pre-television era, and how the talk radio format developed. [Department Chair: Michael Morgan. Dissertation advisor: Jarice Hanson.]
Fall 1989 to Spring 2008: Emerson College, Boston MA.
As a member of the adjunct faculty in Journalism, the Institute for Liberal Arts, and Continuing Education, I taught a variety of courses, many of which were related to Media Literacy, Social History, and Media Ethics. These included undergraduate courses in Newsgathering, Media Ethics, Introduction to Mass Communication, Media Criticism and Theory, Writing for Media, History of Broadcasting, and Discovering Journalism. I also taught a course that I developed, The City in Transition: A Social History of Boston, and a course about stereotypes and representations called Representing the Real. I developed a seminar about Media and Gender Issues, dealing especially with stereotypes and representations of women in mainstream media. I also brought in guest speakers to give Emerson students a real-world look at media.
I was the only adjunct faculty member who taught the capstone course, Senior Seminar in Mass Communication. In 1998, I planned and put on a one day conference about ethnic humor, bringing in famous scholars and entertainers as participants, and helped to set up several other cultural events for Emerson faculty and students. In 1999/2000, I worked with Emerson's historian and archivist to research, design and mount displays about college history, especially the college's relationship with broadcasting (it was one of the earliest to offer its professors as guest experts on local radio stations). Throughout my career at Emerson, my on-going research on media history and media stereotypes, as well as my work mentoring students, won me praise from the department chairs for whom I work. In 1995, I was voted adjunct instructor of the year and given the Gold Key award for excellence in teaching. [Department Chairs included Jerry Lanson and Janet Kolodzy.]
Fall 2000 to Spring 2008: University of Massachusetts/ Boston.
As an adjunct professor in both American Studies and Communication, I taught Introduction to Communication, Analyzing Media, and Public Speaking, as well as teaching Music and Politics, Introduction to Popular Culture, and Media Literacy.
Professional achievements:
In 2015, I presented a conference paper on Ina Eloise Young, the first female sports editor and first woman nominated to the Baseball Writers Association (back in 1908!). The paper is currently being prepared for publication in NINE, a journal of baseball and popular culture. I was also a reviewer for several scholarly journals, including Technology & Society, and New Media and Society.
Also in 2015, I published several free-lance articles about topics related to popular culture, including one that appeared in the Quincy (MA) Patriot-Ledger and another that appeared in the Toronto Star. Additionally, I had two essays included in a major reference work about rock music: The 100 Greatest Bands of All Time, published by Greenwood Press.
I became a blogger in January 2015 and some of my weekly postings have received as many as 4000 views.
In 2014, my newly up-dated and revised 2nd edition of "Invisible Stars: A Social History of Women in American Broadcasting" was published by M.E. Sharpe. I also had an article published in Skeptic magazine about how to employ critical thinking and fact-checking when watching or reading the news.
Throughout 2013-2014, I did a number of fact-checking projects for Cook's Illustrated magazine.
From 2009-2013, I participated in a number of ongoing projects for the Bradford Mint (now called Bradford Exchange): these included writing and researching copy, as well as fact-checking historical information about products they were about to make available (both coins and stamps).
In 2012-2013, I wrote five essays about early baseball history for books on the Boston Red Sox and Boston Braves that were published by the Society for American Baseball Research (SABR). I also delivered conference papers for SABR at regional events, including a paper about African-American women sportswriters.
My fifth book, "Boston Radio 1920-2010" was published by Arcadia Press early in 2011. I did speaking engagements in support of that book at schools, libraries, and civic organizations. I was also interviewed on WBUR-FM, WBZ-AM, WRKO, and WGBH-FM (all in Boston) as well as a number of suburban radio stations, and have been quoted about Boston radio in the Boston Globe, Boston Herald, Quincy Patriot-Ledger, and several other area newspapers.
In addition to my previous two books, I am the author of four others, including a reference volume called "Icons of Talk: The Media Mouths that Changed America" (a history of the talk show genre, published in 2008). I have also had a number of articles about broadcasting (both history and analysis) published in such magazines as Radio World, All-Access.com, Extra, and Radio Guide.
In 2010, I contributed six new essays, on pioneering women and African-Americans in broadcasting, to the Biographical Encyclopedia of American Radio, and wrote an essay for the new Perspectives in American Social History:  Cold War and McCarthy Era, about the "Red Scare" and its effect on broadcasting.
In March 2010, I gave a talk at the American Journalism Historians' Association conference, about the history and growth of radio criticism. In September 2010, I gave the convocation address at Southern Utah University, having spent several days as a scholar in residence. My convocation lecture was about the effect of talk radio on public opinion.
In 2008, I contributed a chapter about how radio brought women's voices and women's issues into the public sphere for the book Radio Cultures, edited by Michael C. Keith. In mid-2008, my research was used by Christopher H. Sterling and Michael C. Keith in their new book on the history of FM broadcasting. In 2008, I did the up-date for the entry about the history of broadcasting for the World Book Encyclopedia and am currently doing other updates about media-related subjects.
In 2007, I wrote an essay about media portrayals of gangs for Greenwood Press's new Encyclopedia of Gangs. I also wrote an essay about international broadcasting, Greenwood Encyclopedia of World Cultures.
In 2006, Christopher Sterling and I co-wrote a journal article refuting some of the myths about Reginald Fessenden's iconic Christmas Eve broadcast. It was published by the Antique Wireless Association's AWA Review. I also helped author Stephanie Schorow with research and fact-checking for her book about the Brinks Robbery. I am thanked in her acknowledgements.
Other writing of mine can be found in the five entries I wrote for the 2004 edition of the Encyclopedia of Radio; 3 entries for the 2004 Berkshire Encyclopedia of World History; and one, about pioneering newswoman Nancy Dickerson for the 2005 Notable American Women. As a result of that work, I was asked to fact-check and do further research for John Dickerson's 2005 biography of his mother. The book, "On Her Trail," thanks me in the introduction. And in 2002, J. Michael Kittross and Christopher Sterling made use of my research when they revised their well-regarded Stay Tuned.
In addition to being a guest speaker on various radio programs, I have been a guest on a number of television and internet programs, discussing trends in media. In 2014, I taught an online class on the history of broadcasting for Tiffin University in Ohio. In 2013, I was a guest on "Beat the Press," a media criticism program on WGBH-TV, discussing the discourses on conservative talk radio. I was a guest "expert" on a segment on WBZ-TV about the coarsening of popular culture. I have also discussed the history of Boston radio on a segment of the WCVB (Channel 5) program "Chronicle" (2006). Also in 2006, I discussed why traditional record stores are going out of business for the NewsHour (PBS), and the impact of Katie Couric as an anchor on NECN (New England Cable News). In previous years, I have been on History Channel discussing the social history of car radios, and on ABC's Nightline, where I commented on media consolidation.
Broadcast Consulting and Media Experience:
2007 to present: I am one of the judges who determine the winners for the National Association of Broadcasters' annual Marconi Awards. I have also been the lead judge for the Massachusetts and New Hampshire Broadcasters' Association's annual radio and TV awards. I am a member of the board of directors of the Massachusetts Broadcasters Hall of Fame, and part of the selection committee that chooses the annual awardees.
1980 to 2009: I ran a radio programming and management consulting firm, specializing in small and medium markets, at both college and commercial stations. As a consultant, I trained new owners, managers and department heads; hired entire staffs; done market and perceptual research; conducted motivational seminars; and selected formats for a wide range of clients in radio. My work included training morning show teams as well as helping talk show hosts (both liberal and conservative) to communicate more effectively. I have also trained news and public affairs directors, working with them to improve their on-air sound and serve their target audience. A number of the small and medium market announcers I trained have gone on to major market success, and over 90% of my consulting clients saw their ratings increase. Among the companies for whom I worked as a consultant were ABC Radio, CBS/Infinity, Cook-Inlet Broadcasting, San Jose State University (KSJS Radio) and Greater Media Broadcasting; I have also worked for individual owners in markets all over the United States, eastern Canada, and Puerto Rico.
Other Information
I am the historian for WBZ Radio, and wrote the station's history for its website; I also answer historical questions from readers. When not at work, I collect old magazines, old postcards, radio and music industry memorabilia, and stamps. I discovered the rock group Rush, who dedicated their first two albums to me. I am seen in a 2010 documentary about them, and the video of my delivering a speech when they received their star on the Hollywood Walk of Fame can be seen on YouTube. Since 1984, I have been the advocate for an adult with autism; I helped him to learn to speak, and have worked to improve the quality of his life. I have also been a Big Sister and a mentor.