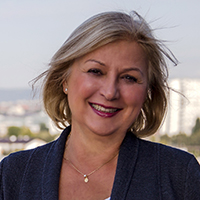 Jasmina Havranek
Ph.D.
SENIOR VICE PRESIDENT ( ACADEMIC AFFAIRS), Global Listening Centre.
FORMER DIRECTOR : CROATIAN AGENCY FOR SCIENCE AND HIGHER EDUCATION
Professor Jasmina Havranek, is famous & important personality in Croatia . Her  contribution is immense in the field of education for her country and is a internationally respected person.  Dr Jasmina completed her  doctorate from the Faculty of Agriculture, University of Zagreb. In 2001, she was elected tenured full-professor at the same University. As the Dean of the Faculty of Agriculture, University of Zagreb(2001–2006), she hosted many international delegations, rectors, representatives of foreign universities, faculties, organisations, agencies, ministries, etc. Throughout her career, Prof. Havranek has been spreading awareness on the importance of contemporary developments in the area of higher education and science. In the period between2003–2005, Prof. Havranek served as the President of the National Council for Higher Education of the Republic of Croatia, and in 2005 was appointed as the head of the Croatian Agency for Science and Higher Education (ASHE).She herself spent part of her working life abroad, specializing at institutions in Denmark, Finland, USA, Italy and Greece. She brings together various activities in the area of science and higher education, quality assurance in higher education and science.