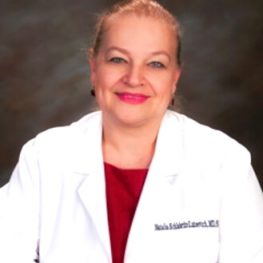 Natalia Schlabritz-Lutsevich
MD, Ph.D
Director (Healthcare Listening), Global Listening Centre.
Chair of MCHIRB & Assoc. Prof. Texas Tech University Health Sciences Centre
Natalia Schlabritz-Lutsevich is the Interim Chair of the Medical Center Hospital Institutional Review Board, Director of the Integration Seminar, and Associate Professor in the Department of Obstetrics and Gynecology and the Department of Pharmacology and Neurobiology at Texas Tech University Health Science Center School of Medicine and the Texas Tech University Health Sciences Center Graduate school of Biomedical Sciences. Upon transition of her laboratory onto the Permian Basin Campus of the Texas Tech University Health Science Center (Odessa TX), she contributed to the field of fetal programming by developing a human placental perfusion system. She enjoys mentoring medical students, residents, and fellows to develop them as well-rounded clinicians and researchers. Her mentees have received multiple awards, including travel awards from prestigious societies, the university president and dean for their scientific contributions. She is also proud to be a partner of Ector county Independent school district (ECISD). We achieved highest level of recognition by winning the NASA competition to perform space flight experiment on the mission 13 (July 2019). ECISD chose her to receive a state award on behalf of TTUHSC "Stand up for public education".