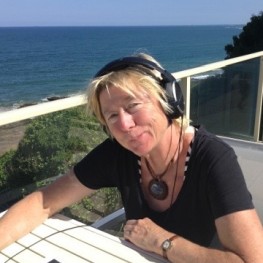 Siobhan Mc Hugh
, Ph.D.
Director, Global Listening Centre.
Sr. Lecturer : University of Wollongong, Australia.
GLOBAL LISTENING CENTRE
Siobhan McHugh, Ph D. is very respected Senior Lecturer in Journalism at the University of Wollongong, Australia and has over three decades' experience as an award-winning radio documentary-maker and oral historian. This has involved interviewing and listening deeply to over a thousand people of diverse social and cultural backgrounds, on topics ranging from war and migration to religious bigotry and racial discrimination to histories of tourism and social housing.
Siobhan's academic research examines critical analysis of audio storytelling and podcast genres and the affective power of voice, drawing on the fields of radio journalism and oral history scholarship.
Her radio documentaries have won gold and bronze awards at the New York Radio Festival and she is Founding Editor of the first journal of critical analysis of the audio documentary form, RadioDoc Review: http://ro.uow.edu.au/rdr/