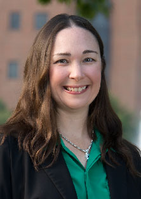 Stacey L. Connaughton
Ph.D.
Past President (Academia), Global Listening Centre.
Prof Brian Lamb School Of Comm at Purdue University
Director of the Purdue Policy Research Institute (PPRI) in Purdue's Discovery Park
GLOBAL LISTENING CENTRE
Stacey L. Connaughton (Ph.D., The University of Texas at Austin) renowned US scholar is a Professor in the Brian Lamb School of Communication at Purdue University and the Director of the Purdue Policy Research Institute (PPRI) in Purdue's Discovery Park. Her research examines leadership and multi-stakeholder organizing, most recently in the context of political violence prevention initiatives. Dr. Connaughton serves as Director of the Purdue Peace Project (PPP), housed in the Purdue Policy Research Institute. As Director of PPP, Dr. Connaughton has led the multi-stakeholder relationship building, project development, and (participatory) monitoring and evaluation for locally led political violence prevention initiatives in Ghana, Liberia, and Nigeria. In these efforts, she has worked closely with media organizations, government, private sector, NGOs, civil society, and everyday citizens – both those who affect violence and those affected by violence. From that body of work, Dr. Connaughton has developed what she calls the Local Leadership Model of political violence prevention and the Relationally Attentive Approach to doing engaged scholarship (i.e., academic-practitioner political violence prevention collaborations). Central to all of this work is helping to inspire everyday citizens to be critical thinkers, problem solvers, effective communicators, and leaders as they work together to address issues that affect their communities.
Dr. Connaughton's work has been supported by the National Science Foundation, the Carnegie Corporation, the Russell Sage Foundation, the Ford Motor Company, and the Indiana Department of Transportation, and she has secured more than $3 million in gift funds. Dr. Connaughton served as a thought leader on distributed leadership for the U.S. Army Research Institute's Leader Development Unit. She was a consultant to USAID's Liberia Strategic Analysis program where she led the development of a mentorship program and leadership curriculum designed to develop the next generation of Liberian leaders. She has been invited to present her research on virtual teams and leadership to industry, military, and higher educational audiences, and has facilitated workshops and written guidebooks in the areas of virtual teams, leadership, teambuilding, strategic planning, and effective communication in North America, Europe, Asia, the Middle East, and Latin America. Dr. Connaughton teaches graduate and undergraduate courses in qualitative research methods, leadership, and political violence prevention. She is the recipient of several teaching awards, Purdue's 2017 Faculty Engaged Scholar Award, the 2020 Purdue Provost's Graduate Mentor Award, and Purdue's 2018 Trailblazer Award – an award given to a midcareer tenured faculty member for innovation and impact in research. Dr. Connaughton is the Associate Editor of the Journal of Communication and she serves on several Editorial Boards. Dr. Connaughton has served as the Associate Head and the Director of Graduate Studies in the Brian Lamb School of Communication at Purdue and as the Associate Chair of Purdue University's Social Sciences Institutional Review Board.