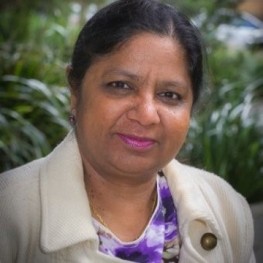 Usha M. Rodrigues
, Ph.D.
Director, Global Listening Centre.
Sr. Lecturer : Deakin University, Australia.
GLOBAL LISTENING CENTRE
Usha M. Rodrigues, Ph.D. is an international scholar & Senior Lecturer in Journalism at Deakin University, Australia. She has also been the Program Director for Master of Communication and Bachelor of Communication (Honours). Dr Usha has completed her Phd from The University of Queensland, Australia;  A transnational scholar, Usha has postgraduate degrees from Michigan State University, USA; and Bombay University, India.
Usha joins Global Listening Centre as an experienced journalist and journalism scholar and a listener. Her research interests are contemporary news media practices; social and mobile media; and transnational and citizen journalism. Her two co-authored books on India News Media in a globalised era have been published by respected Sage Publications, and she has authored a number of empirical research projects/articles.
Usha strongly believes that this world can be a better place if we all listened to each other better. Teaching students Effective Listening Skills needs to be prioritized at schools and colleges, according to Usha. She has a keen interest in the coverage of news stories impacting on audiences from diverse cultural background. To this effect she was one of the first applicants to receive Victorian (Australia) Government's Social Cohesion Research Grant in 2016.
Usha continues to write for news media in India and Australia, when not teaching undergraduate and postgraduate students the craft of journalism in contemporary times and supervising research projects. She has been a recipient of teaching and internationalisation awards at Monash and Deakin universities.