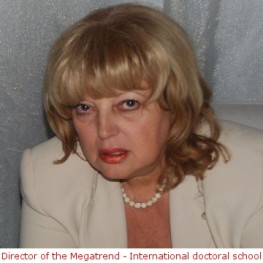 Vesna Baltezarević
, Ph.D.
Director, Global Listening Centre.
Dean of the Faculty of Civil Aviation at Megatrend University
GLOBAL LISTENING CENTRE
Prof. Dr. Vesna Baltezarević, is an elected Active Member of European Academy of Sciences and Arts – class V, Social Sciences, Law and Economics, delegate for Serbia and member of Rectors Conference of the AME, as well as president of Alma Mater Europaea Belgrade. She is elected Academic Member of the Athens Institute for Education and Research, belonging to Mass Media & Communication Research Unit and Academician of the Euro Mediterranean Academy of Arts and Sciences (EMAAS.) She is a member of the Association of Journalists of Serbia. She was elected President of the Association of Serbian Market Communications Belgrade two times, (2002-2006) and President of the Court of Honor of the same Association (2006-2014).
During her career she held different working positions, comprising twenty years in management jobs. She graduated from the Faculty of Law, passed the Specialist exam and Bar exam, completed specialization in Public Relations; holds MSC in Economy and Law (thesis: Public Relations as a Strategic Management Function, With a Special Emphasis on Public Administration) and a PhD in Law (in the field of Occupational Law, thesis: Communication Channels in the Dialogue With the State. and Solving the Problem of Mobbing – the first thesis dedicated to the phenomenon of abuse at work defended in the Republic of Serbia).
Over the past years, she has been working as a professor of Intellectual Property and Media Law at Faculty of Culture and Media & as a professor of Legal regulations in the field of civil aviation at Faculty of Civil Aviation, Belgrade. She is director of the Megatrend – International doctoral school & Dean of the Faculty of Civil Aviation, Megatrend University, Belgrade. During her academic engagement she published fifteen books and more than one hundred papers published in national and international journals and presented at scientific conferences. Areas of her special interests are: harassment at work, media, communications and know how.
At the end 2016. she published a novel "Nepomnjan".