His Holiness Pope Francis on LISTENING–the Vital Hope for Society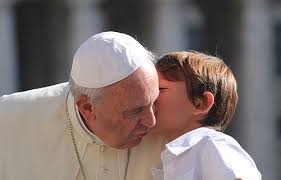 " We must First Listen " –  Pope Francis
Following is an extract from the message of His Holiness Pope Francis on the occasion of the 50th World Communication Day celebrated on ( 8th May 2016).
"Some feel that a vision of society rooted in mercy is hopelessly idealistic or excessively indulgent. But consider our first life experience of human relationships in the family. Love is never dependent on the child's meeting certain conditions. The family home is one place where we are always welcome. I would like to encourage everyone to see society not as a competition between strangers but above all as a home or a family, where the door is always open and where everyone feels welcome.
For this to happen, we must first listen. Communicating means sharing, and sharing demands listening and acceptance. Listening is much more than simply hearing. Hearing is about receiving information, while listening is about communication, and calls for closeness. Listening allows us to get things right, and not simply to be passive onlookers, users or consumers. Listening also means being able to share questions and doubts, to journey side by side, to banish all claims to absolute power and to put our abilities and gifts at the service of the common good.
Listening is never easy. Many times it is easier to play deaf. Listening means paying attention, wanting to understand, to value, to respect and to ponder what the other person says. It involves a sort of martyrdom or self-sacrifice, as we try to imitate Moses before the burning bush: we have to remove our sandals when standing on the "holy ground" of our encounter with the one who speaks to me (cf. Ex 3:5). Knowing how to listen is an immense grace, it is a gift which we need to ask for and then make every effort to practice. "