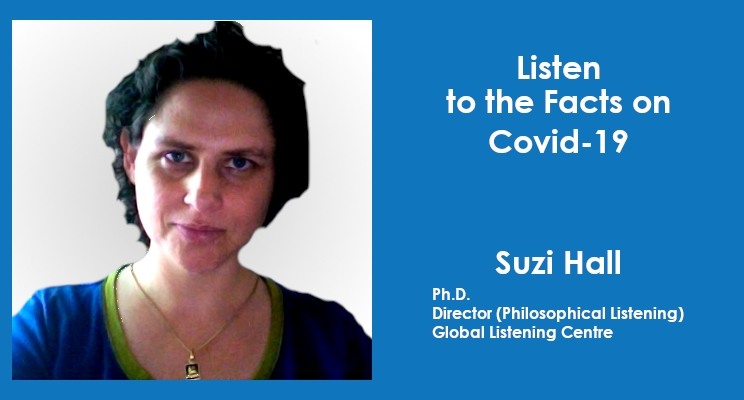 Listen to the Facts on Covid-19
As of the date of writing, the Covid-19 has infected over 5,716,570 people globally, with over 356,131  deaths, according to Johns Hopkins University. Most countries are currently in a state of lockdown as we attempt to prevent the further spread of the virus.
Now more than ever it is important to exercise critical listening skills, as we are bombarded through the media with masses of information and misinformation, much of it focusing on the negative. For this reason, it is highly important to listen reflectively and critically to the sources of information, analyze what is said, and judge the quality and accuracy of the content.
In crises such as this current pandemic, critical listening skills can play a pivotal role because they can help us distinguish between relevant and irrelevant information. Only based on valid information can we act as responsible global citizens. We should all keep this in mind during this time.
In what follows I will share some common recent examples of misinformation and myths relating to Covid-19, alongside the relevant facts.
Coronavirus CANNOT be killed by drinking water over 27°C. The normal body temperature is around 37°C, so if this myth were true, it would mean no one would ever get sick. Likewise, hot climates, hot baths, and using hairdryers or saunas DOES NOT prevent the spread of the virus. Countries with hot climates have reported cases of Covid-19. The virus does not "die" at high temperatures.
Drinking water often DOES NOT prevent you from catching the virus.
Holding your breath for 10 seconds without coughing or difficulty DOES NOT mean you don't have the virus.
Hydroxychloroquine IS NOT a proven cure. The case for using this anti-malarial drug, commonly used to treat cases of rheumatoid arthritis, as a cure for the Coronavirus is "based on a seriously flawed paper," according to epidemiologist Gideon Meyerowitz-Katz, who spoke with a reporter from The Guardian independent news service. "Other medications that have been promoted as miracle cures for Coronavirus have not held up to closer scrutiny either. Yes, some drugs might improve survivability with the disease, but at the moment all we have is theories and hope, not good evidence that one can be cured using fish tank cleaner," Meyerowitz-Katz said.
Some say that we don't need to wait for a vaccine as the mass of humanity will collectively develop "herd immunity" and thus naturally be immune to the virus. But "Herd immunity" would mean hundreds of thousands of deaths.
For herd immunity to come into effect, at least 60-70% of the global population would have to be infected, which would mean hundreds of thousands of deaths at the least, Meyerowitz-Katz told The Guardian.
The best way to prevent the spread of Coronavirus remains:
To wash your hands with soap and water (or hand sanitizer) regularly, for 20 seconds at a time
To cough or sneeze into your elbow
To stay at least 1.5 metres away from other people, and
To stay at home unless it is necessary to go out.
Medical-grade masks are unnecessary unless you are sick or caring for someone who has the virus. They should be reserved for the use of healthcare workers primarily.