Listening and Leading with an Open Heart
By
Thomas H. Dahlborg
Director, Global Listening Centre.
President : Dahlborg Healthcare Leadership Group.
Published On : 19th July, 2017.
I've worked in hierarchical organizations for most of my career, where decisions are top-down and based on what's already known; where individuals provide input based solely on their role and responsibility (no stepping outside); where process and outcomes are based on historical expectations and where patterns and expectations are the strict definer of success.
Then, in 2005, I joined an organization where the collaborative leadership "Circle" process was the heart and soul of our culture. The prevailing culture emphasized authentic relationship, trust, honesty, shared leadership, speaking and listening for understanding through multiple lenses, and heart-centeredness (heartfulness). It was quite an adjustment for someone coming from the typical corporate structure.
A few years later, I had the opportunity to also join an amazing healthcare leadership organization, where the facilitators shared the Prosci PCT (Project Change Triangle) Model.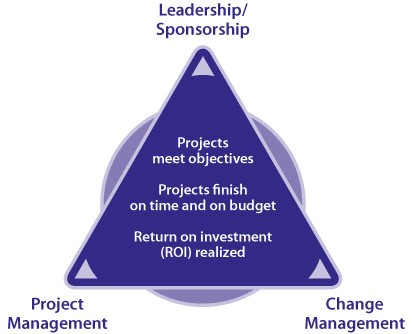 And as we discussed the model, I found it fascinating how we began to imagine a large heart at its center. Yes, a heart. And yes, as the heart began to grow our facilitators shared how the study of leadership was evolving to focus more and more on listening and leading with an "open heart".
Ronald A. Heifetz and Marty Linsky, co-authors of Leadership on the Line: Staying Alive Through the Dangers of Leading, shared the following in an article in Leader to Leader journal …
"After years of raising questions and accumulating scars, most of us develop a set of defenses to protect ourselves. We buy into the common myth that you cannot survive a demanding leadership role without developing a thick skin. But that diminishes us, because it squeezes the juice out of our soul. We lose our capacity for innocence, curiosity, and compassion. In a sense, our hearts close – our innocence turns to cynicism, our curiosity turns to arrogance, and our compassion turns into callousness. We dress these up, of course, because we don't want to see ourselves – and certainly don't want others to see us – as cynical, arrogant and callous. We dress cynicism up as realism. So now we are not cynical; we're realistic. We are not arrogant, but we have authoritative knowledge. And we dress up and cloak our callousness by calling it the thick skin of wisdom. But to stay alive in our spirit, in our heart, requires the courage to keep our heart open …"
To listen with an open mind AND an open heart and be open to be wrong, to learn, to grow, and to evolve.
Today I ask you … Are you listening? Are you leading with an Open Heart?
Ask yourself:
Am I still curious?
Do I seek to listen to understand?
Am I open to learning?
Or have I closed my mind to new ideas and concepts?
Am I arrogant?
Am I compassionate?
Or am I callous?
Am I hiding my fear(s) behind a mask of ego?
Am I a cynic?
How do I know?
Listening and leading with an Open Heart is not a sign of weakness – just the opposite. It requires courage. On the other hand, cynicism, arrogance and callousness may look courageous at first glance, but in reality, no.
The word 'courage' has its root in 'heart'. 'Cour' = 'coeur' ('heart' in French). Courage is the core of Open Heart Leadership. Courage is listening with one's heart. Courage is living from the heart. Courage is being vulnerable.
If we are truly to improve health care throughout the world and position individuals and communities for improved health, an optimal healing journey, or an authentic dying journey, we must all be courageous (and vulnerable) and listen and lead with an Open Heart.
Now that is courageous (Open Heart) leadership.