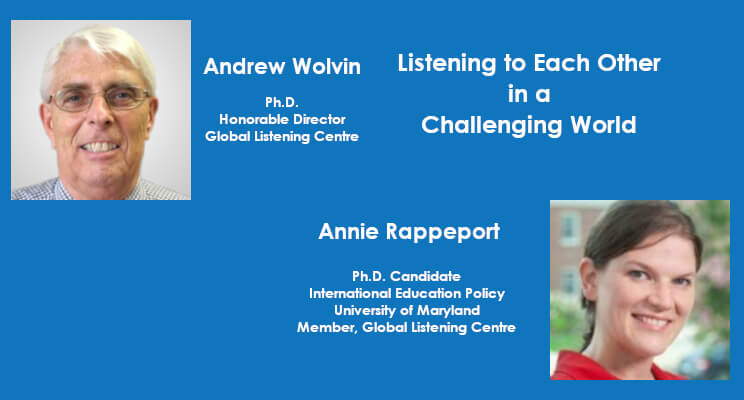 Listening to Each Other in a Challenging World
Around the world, the polarization and radicalization of groups who have lost faith in their fellow humans is increasing. We are seeing a troubling rise in generalizations and manipulative propaganda that encourage dehumanization of our fellow human family members. Stuck in our silos and connecting primarily through technology during COVID-19, we have diminished opportunities for meaningful interactions and conversations which serve as short- and long-term reminders that we are communities that thrive on differences of thought and commonality of values. Instead, we are able to (and encouraged to) stay in our physical and virtual bubbles, significantly limiting our connections to our neighbors. Single dimensions of complex identities have shifted would-be friends into presumed enemies.
As we began 2021, these trends erupted into violent scenes, blazing fires, gun shots, scaling of walls and much more. In January, thousands of protesters turned violent and physically threatened elected democratic leadership in the United States (Bredemeier, 2021). As NPR observed, "a group this large defies generalization" (NPR, 2021). In February, similar anti-election sentiments resulted in a successful coup in the country of Myanmar in Southeast Asia where anti-coup protester injuries and fatalities are mounting. Chaos, which the United Nations quickly condemned, could threaten the stability of the entire region and lead to war (UN News, 2021). The on-going protests in Senegal led Alioune Badara Cissé to warn "we are on the verge of an apocalypse" (BBC, 2021).
These events are widespread. They reflect a desperate need to step back and consider how to center our society on active listening skills. As we deal with political unrest, the COVID-19 pandemic, climate change, economic distress, and racial injustice, it's understandable if we want to just hide out. But hiding out and not reaching out to secure our own communities in non-violent discourse will assist in our own downfall. We have a human need to connect with others because we are inextricably interconnected to each other and our environment. So what do we do now?
Let's reset to establish a more civil global society. We are poised as listening leaders across fields to help reimagine and recraft a more peaceful and positive global community. The world needs us to help our communities rediscover the beauty and value of listening and learning from each other.
A civil foundation begins with active listening, a dimension of human communication that is too frequently ignored, dismissed, or reduced to hearing. But to truly engage as an active listener requires one to be willing to listen, to concentrate, and to allow the other person to share their message before providing an appropriate response.
Clearly, it's a challenge to be an active listener. We need to work to listen with empathy, to understand the other person's point of view and why.  This can be difficult. You have to set aside the typical response of "Yes, when I…." and instead let them fully elaborate the point or concern that they are expressing. Reinforcing verbal and nonverbal responses to encourage the person to elaborate can be especially productive. Indeed, your responses can lead them to listen to themselves and, in the process, find a resolution to the problem or a recognition of how the point of view may not be the most productive stance.
Active listening also extends to critical listening. When listening to persuasive messages, we have a responsibility to understand the person's message, to recognize our own bias, and then to assess the acceptability of it.   Is it true? Is it factual? Is it ethical?
The pioneering listening researcher, Ralph Nichols, always stressed that "The most basic of human needs is the need to understand and be understood. The best way to understand people is to listen to them" (1980).  Now more than ever, our world today depends on it.
Sources:
Bredemeier, K. (2021, January 6). Thousands Storm US Capitol in 'Shameful Assault…on Our Democracy'. VOA News. Retrieved from https://www.voanews.com/
Nichols, R.G. (1980, February 17). The Struggle to be Human. Keynote Address, International Listening Association Convention, Atlanta GA.
NPR Staff (2021, March 5). The Capitol Siege: The Arrested and Their Stories. NPR All Things Considered. Retrieved from https://www.npr.org/2021/02/09/965472049/the-capitol-siege-the-arrested-and-their-stories
(2021, March 3). 'Stability of the region' hangs on Myanmar, declares UN Special Envoy. UN News. Retrieved from https://news.un.org/
(2021, March 7). Senegal protests: The country is 'on verge of an apocalypse'. BBC News Africa. Retrieved from https://www.bbc.com/news/world/africa