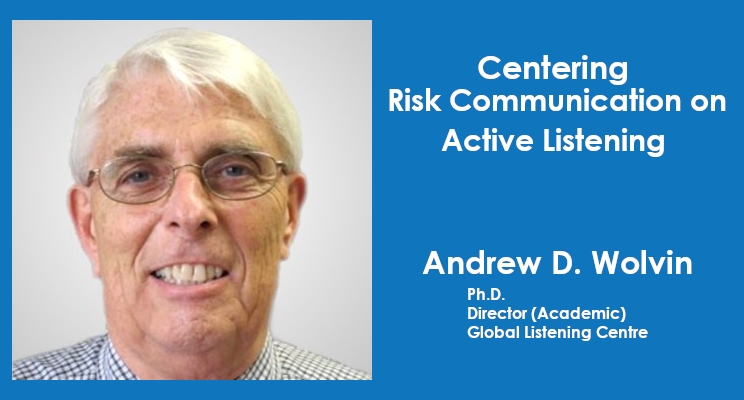 Centering Risk Communication on Active Listening
"Pockets of U.S. Still Resisting Urgent Mantra to Stay at Home" read a front page headline in The Washington Post on April 3.  Indeed, a major challenge of managing the horrific health and economic consequences of the Coronavirus epidemic has been to convince people throughout the world to take seriously the need to social distance.  Incredibly, we are experiencing a global crisis which requires an all-out marshalling of risk communication strategies.
Reviewing the research on risk communication, Deborah Glik points out that "people's responses to events that threaten their health and safety evoke a diverse array of emotional, cognitive, and behavioral responses" (p. 36).  Under high stress, people find it difficult to process information because we are more likely to focus on negative information, distrusting the information and responding emotionally (Ibid.)  This leads communication researchers to focus on "how messages are framed, who communicates them, and how they are communicated" especially as linked to media representations of risk (Ibid.)
And dealing with communications about risk complicates the already-complex listening process.  Cognitive scientists Schwarz, Newman and Leach (2016) note that, as we are disposed to see and hear what we want to see and hear, we process information by assessing the general acceptance of the information, the credibility of the information, coherence, the supporting evidence of the information, and the compatibility of the information with our beliefs. The result, Peter Wehner (2018) describes, reinforces that "one shouldn't underestimate the threat posed by this moment . . . the political culture is sick, the nation is increasingly polarized and fragmented, and people's capacity to hear one another and reason together is deeply impaired."
Notwithstanding the complexities involved in processing risk communication, the emotional, cognitive, and behavioral dimensions of listening (Halone, Cunconan, Coakley & Wolvin, 1998) have not received much consideration in the theory and research on communication in and about individual and/or collective risks we face.  This gap has led Jim Macnamara (2018), a leading scholar on organizational listening, to conclude that "Despite theorization of the disciplinary practices of public relations and corporate, organizational, government, and political communication as two-way communication involving dialogue and engagement with stakeholders and publics, a transdisciplinary literature review of these fields reveals that little attention is paid to listening" (p. 1).
One major risk communication scholar, researcher Timothy Sellnow (2009), observes that "A central factor of risk communication involves effective listening" (p. 73).  To effectively reach listeners, Sellnow and his colleagues offer a message-centered approach which includes involving the public in dialogue about risk and designing messages which are culture-centered, acknowledge uncertainty and unknowns, and are based on credible, truthful information arguments (p. 58).  Given these design characteristics of risk messages, it seems essential that those of us who work in listening theory and research must focus greater attention on informing the process of risk communication.
Deborah Newburn, writing in the Los Angeles Times on the Coronavirus crisis (2020), cites Edward Jones-Lopez, a University of Southern California infectious disease expert: "There is an explosion of research about this, and what we know about it is changing almost by the hour."  Newburn reminds her readers that "it is possible that the information you read below will be contradicted in the coming weeks or that gaps in knowledge today will soon be filled as scientists continue to study the virus."
Health communication experts Kreps, Bonaguro and Query (1997) encourage health care providers to be active listeners as "the benefits of listening outweigh the costs" in the delivery of effective health care (p. 298).  They also stress that the consumer must be prepared and willing to engage in active listening. Recognizing that listening is central to health care, Mowat, Bunniss, Snowden and Wright (2013) reinforce the point that ". . . listening can be the most effective form of intervention" in medical practice. Illness, they note, ". . . is a significant life event which people need to talk about" (p. 37).  And we must recognize that to talk about it requires willing, empathic listeners.
While much of health care should focus on listening literacy, much of health literacy is centered on reading literacy—providing readable hospital discharge documents, prescription medication details, etc.  Donald Rubin (2012), a leading expert on listenability, argues that ". . . oral communication about health information is arguably at least as important as written communication," especially as "it is clear that patients and consumers acquire (or fail to acquire) much of their health information not by reading, but by listening" (pp. 176 -177).  Recognizing that patients ". . . may have trouble listening or concentrating when they are stunned by bad news, scared, sick or in pain," health literacy specialist Helen Osborne (2005) stresses the need for listening as central to health literacy: ". . . providers have a responsibility to communicate health information ways that patients and their families or caregivers can understand… and take appropriate action. . ." (p. 211).  It also is interesting to note that some research on listenability extends to the comprehensibility of police cautions (Eastwood & Snook, 2012), another important dimension of crisis communication.
Listenable messages enable active listening.  A leading listening research scholar, Graham Bodie, and his colleagues (2015) have identified verbal and nonverbal behaviors that characterize active listening.  Active listening includes a range of verbal behaviors, including asking questions, paraphrasing, reflecting feelings, assumptions, and checking while nonverbal behaviors include head nods, eye contact, and body lean.  Media scholar Tanja Dreher (2009) reminds us that active listening extends beyond the individual listener to include a focus and responsibility for change on the part of "the conventions, institutions and privileges which shape who and what" is communicated (p. 445).
Zenger and Folkman's work on listening reinforces the importance of creating an active listening environment for meaningful communication to transpire: The listener creates a safe, supportive environment in which difficult, complex, or emotional issues can be discussed. Listening scholars Itchzakov and Kluger's research (2018) identifies some best practices that can help us center communication on active listening: (1) Give 100% attention.  (2)  Don't interrupt.  (3)  Don't judge or evaluate.  (4)  Don't pretend to listen.  (5)  Don't impose your solutions.  (6)  Ask questions that help the speaker.  (7)  When you've finished, reflect on your listening.
Clearly, as the Coronavirus pandemic rages on, we need to create a world of active listeners: global listeners who are willing to engage with compassion and understanding so that we have the opportunity to share our perspectives, our questions, our fears with others.  And that has started to happen. XieBastida, a 17-year-old climate activitist, describes how people have begun to recognize the importance of listening in today's pandemic-ravaged world: "We're able to listen in a way that we haven't been able to before.  And I hope that when things go back to normal and its gets noisy again, we can help remember to still listen and help people the way we have now" (cited in Knowles, p. 24).
References
Glik, D. C.  (2007).  Risk communication for public health emergencies.  Annual Review of Public Health, 28, 33-54.
Bodie, G. D., Vickery, A. J., Cannava, K., & Jones, S. M.  (2015) The role of "active listening" in informal helping conversations:  Impact on perceptions of listener helpfulness, sensitivity, and supportiveness and discloser emotional improvement.  Western Journal of Communication, 6 (6), 1-23.
Dreher, T (2009). Listening across difference:  Media and multiculturalism beyond the politics of voice. Continuum:  Journal of Media & Cultural Studies, 23 (4),  445-458.
Eastwood, J. & Snook, B.  (2012).  The effect of listenability factors on the comprehension of police cautions.  Law and Human Behavior, 26 (3), 177-183.
Glik, D. C.  (2007).  Risk communication for public health emergencies.  Annual Review of Public Health, 28, 33-54
Halone, K. K., Cunconan, T. M., Coakley, C. G. & Wolvin, A. D.  (1998).  Toward the establishment of general dimensions underlying the listening process.  International Journal of Listening, 12, 12-28.
Itzchakov, G. & Kugler, A. (May, 2018).  The power of listening in helping people change.  Harvard Business Review.
Knowles, H. (April 9, 2020).  Gen Z aims to shake the status quo, and this could be its moment," The Washington Post, p. A24.
Kreps, G. L., Bonagurao, E. W. & Query, J. L. Jr.  (1997) Listening:  A crucial competency for effective health care delivery.  In Purdy, M. & Borisoff, D. (Eds.) Listening in everyday life.  University Press of America.
Macnamara, J. (2018) Toward a theory and practice of organizational listening. International Journal of Listening, 32:1, 1-23.
Mowat, H., Bunniss, S., Snowden, A. & Wright, L.  (2013).  Listening as health care.  The Scottish Journal of Healthcare Chaplaincy, 16, 35-41.
Newburn, D.  (April 4, 2020).  Coronavirus kills some people and hardly affects others:  How is that possible?  Los Angeles Times, latimes/science/story/2020/04-04
Osborne, H.  (2005).  Health Literacy from A to Z.  Jones and Bartlett.
Rubin, D.L.  (2012).  Listenability as a tool for advancing health literacy.  Journal of Health Communication, 17, 176-190.
Schwarz, N., Newman, E., & Leach, W.  (2016).  Making the truth stick& the myths fade:  Lessons from cognitive psychology.Behavioral Science & Policy, 2:1, 85-95.
Sellnow, T. L., Ulmer, R. R., Seeger, M. W. & Littlefield R. S.  (2009) Effective risk communication A message-centered approach.  Springer.
Wehner, P.  (August 24, 2018).  Why people are wired to believe what they want to believe. Medium.com
Zenger, J. & Folkman, J. (July, 2016). What great listeners actually do. Harvard Business Review.